UX Optimization
Multi-Format Open Auction
Access to Multiple Demand Sources
UX Optimization
Users are becoming increasingly demanding with the content they consume. This is why user experience has become a core feature in digital ecosystems.
Finding the right balance between ads and content is key to maintaining a digital site online.
On that account, as digital partners we seek to focus on:

Free Consulting: In order to maximize the results of each partner, before starting, we carefully analyze each digital media. By doing so, the media can be advised on how to make their environment healthier.
Layout Design: We analyze and customize the layout of your site by strategically integrating the advertising spaces, based on the best practices sought by our partners and our success stories. In this way, we manage to raise the CPMs without affecting the user.
Loading Time and Mobile Advertising: Did you know that 53% of Internet users leave a site that takes more than 3 seconds to load? And that 52% of the world's population access the Internet from their mobile phones? For these reasons we advise and create reports so that you do not lose users due to the loading speed for not thinking "Mobile First".
Multi-Format Open Auction
We offer the latest in advertising technology.
Your Ad spaces will be available to the main buyers of your market.
Our Header Bidding solution allows different buyers to access all your ad requests with the same priority, improving profitability in a simple way. This is how a real time auction is achieved.
At the same time, as it is a multi-format auction, overlapping ads are avoided and advertisers can use the format they think is most convenient for their digital strategy.
WIDE RANGE OF FORMATS
Display
Rich Media
Video Outstream
Native Ads
MORE
Access to Multiple Demand Sources
Our goal is to have the largest Multiformat Auction. For that purpose, with Embi Media you will have access to:
Open RTB demand from the main SSP's in the market.
Direct Deals + PMPs from the main Premium networks.
Direct Deals + PMPs from our sales force.
Only seller
Having several companies that work with the same demand sources, generates that the domain is sold repeatedly in the same SSP (under other ID's). This means loss of value and control over inventory optimization.
If the inventory is sold at a lower price than the advertiser is willing to pay, it is monetized at a lower price. With our Header Bidding solution we guarantee that all your inventory is offered at competitive prices.
Previous
Next
We are Market Leaders in Header Bidding
We are a Latin American company focused 100% on digital media. We were born in 2016 and as a result of our constant and professional work we have become a regional benchmark for Header Bidding.
Our values define the quality of our services
We have highly trained and qualified professionals involved in Header Bidding services. We are constantly training ourselves to bring cutting-edge trends, and efficiency to our clients. We are committed to achieving the best results.
We believe in the power of words and we deliver what we say we will do.We build trustworthy relationships because we are convinced that it is the only way to achieve success. We work hard and we strive to reach our goals.
Each media is different and by being always present we nurture the relationship with each one of them.That is our priority. We have specialized representatives for every need. We are always available to suggest improvements, solve problems or clear up any doubts our customers may have.
We don't stand still. We are constantly learning and keeping up with the latest market trends. We continuously update and incorporate improvements to our service platform.
Data Integration using Marketing Intelligence
We have a partnership with DATORAMA, a tool of the "SalesForce" family, to take reporting to the next level
PERFORMANCE IN REAL TIME.
VERY EASY TO USE.
CUSTOMIZABLE AND USER-FRIENDLY DESIGN FOR ALL TYPES OF USERS.
EASY INTERPRETATION AND TRANSPARENCY OF DATA.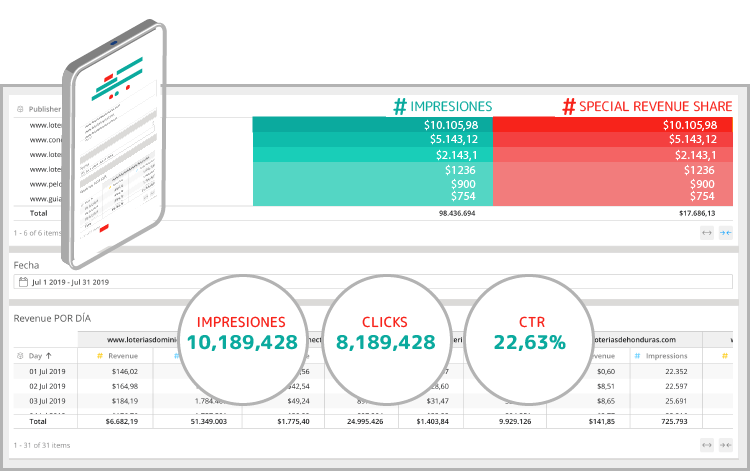 Implementation is included
With our dedicated team of professionals we take care of the whole process. From the setting of the structure to the implementation of both ad server and source code if necessary.
WE EDUCATE BECAUSE WE PURSUE EXCELLENCE
Stay tuned and find out about the latest trends in Header Bidding on our podcast and video channel!